The Top 7 Fenugreek Supplements Reviewed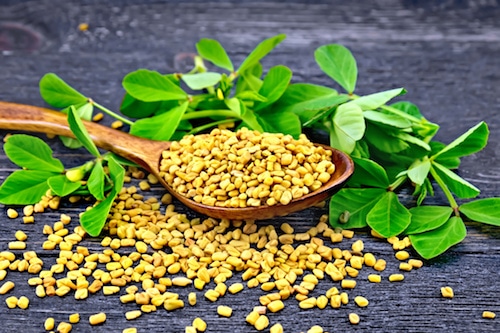 Fenugreek is a lesser-known supplement, but it offers tons of benefits. Once you find out all the benefits, you may want to add it to your daily health regime. We found the seven best options to give you options.
We also want to give you information about the supplement and answer your questions. Let' start with the benefits. Most ailments and illnesses begin with inflammation, and fenugreek can fight inflammation. That's not all either. It's a great source of iron and several other necessary nutrients.
You can also use fenugreek for digestive problems, libido, easier breastfeeding, and so much more. Even better, you can add fenugreek to recipes because it's also a spice. Find out all the benefits and side effects before you decide to add this to your diet. First, take a look at our favorite options, all picked after hours, research, and pickiness that would put a toddler to shame.
Preview
Top Choice
Budget Option
Top Choice
Preview
Preview
Preview
Preview
Budget Option
Preview
The Best Fenugreek Supplements
Before we talk about the Swanson Fenugreek Extract, let's talk about Testofen because it's what makes this supplement amazing. Testofan is a trademarked amount of fenugreek extract standardized for 50% Fenuside, the active compound in fenugreek. It's a proprietary blend of saponin glycosides.
With this supplement, men can gain healthy sexual desire, vitality, muscle mass, and improved testosterone levels. This is the supplement you should take if you are a man or a woman with libido issues. Furthermore, because of the Testofan, this supplement is essentially fenugreek on steroids (not actual steroids).
What's in this magical supplement? The main ingredient is 300 mg of Testofan Fenugreek See Extract from Trigonella foenm-graecum with 50 percent fenusides. It also only has a couple of inactive ingredients, including rice extract, hypromellose (vegetable capsules), and rice concentrate.
Moreover, the company uses a GMP-verified manufacturer with quality testing for purity, potency, and more with third-party testing with industry regulations. One bottle provides 60 capsules for a one month supply, and you get four bottles for a four-month supply making the price incredibly low. Simply take one pill twice a day without or without food. Get hormone support the natural way.
Swanson Fenugreek Extract - Featuring Testofen 300 mg 60 Veg Caps 4 Pack
A unique, standardized Testofen Fenugreek Extract recognized for hormonal support

Features testosterone-supporting fenusides

Studied for its effects on libido in men & women

Vegetarian
Per GMP guidelines set forth by the FDA, most products are formulated for 24 months from the date of manufacture. Liquids and probiotics are formulated for 12 months.
If you want fenugreek that focuses on thinning mucus for relief from upper respiratory discomfort, then try the Nature's Sunshine Fenugreek and Thyme. Yes, you can get natural support for your respiratory symptoms with two spices, fenugreek, and thyme, all from a high-quality brand. Also, use this supplement as a digestive tonic for digestion.
The capsules contain fenugreek seed powder (in the form of Trigonella foenm-graecum) in a dose of 350 mg. It also has 138 mg of thyme leaves (from thymus vulgaris). Moreover, the only inactive ingredient is gelatin. Many supplements contain multiple inactive ingredients, and it's refreshing to find one with so few!
Next, the pills act as a mild laxative to improve appetite, relieve dyspepsia, and gastritis. Basically, it will help with your stomach problems naturally. All this from a brand focused on unmatched potency, consistency, and purity.
The bottle comes with 100 capsules, and you should take two capsules three times a day with water before a meal. This means a bottle will last only 16 days, making the size and the price frustrating despite the helpful of the herbs. Otherwise, you can gain tons of benefits for multiple ailments.
Nature's Sunshine Fenugreek and Thyme 100 Capsules
Natural Mucus Relief - Fenugreek also encourages thinner mucus, which can help relieve occasional upper respiratory discomfort.
Supports A Healthy Respiratory System - Our natural formula provides help and support through ingredients which have traditionally been used to aid lungs.
600+ Quality Tests - Nature's Sunshine is obsessed with creating health supplements with unmatched potency, consistency and purity. You can trust in the pure, potent, proven formulas created by the obsessive perfectionists at Nature's Sunshine.
Guaranteed Pure Ingredients - Since 1972, Nature's Sunshine have been the Herb Specialists with an unwavering commitment to Quality, Service, and Integrity.
The Fenugreek+ by VH Nutrition is made with women in mind. It's designed to help enhance balance in estrogen production and to regulate breast milk production while also helping menopause. Women with pretty much any lady problems can benefit from this supplement. Mind you, men can take this supplement as well to help with testosterone regulation and to decrease cortisol for correct hormone balance, too.
What's in the bottle? Fenugreek extract in a massive dose of 1400 mg, which is significantly higher than the other to options above. As for inactive ingredients, this brand limits it to just the gelatin capsules to help you swallow the supplement. You get all the benefits of the seeds in the pea family without eating the seeds.
Take two capsules once a day to reduce inflammation, boost lactation and milk production, improve gut health, libido, and boost athletic performance. It's made right here in the USA with all-natural ingredients. If you have any issues or don't like the supplement, you can get a full refund.
Sale
Fenugreek+ | 1400mg Capsules | 60 Capsules Extract Powder
Fenugreek helps women by providing enhanced balance to estrogen production helping regulate everything from breast milk production in pregnant women to menopause in others.
Fenugreek helps men by improving testosterone regulation this can elevate lower levels and help decrease cortisol helping the body's own natural ability to have correct hormone balance
Cortisol management is the golden key with hormone regulation in both men and women and fenugreek has been shown to decrease cortisol in men and women.
VH Nutrition offers a 100% guaranteed money back refund no matter what.
Are you looking for an organic and ethically wildcrafted supplement? Try the Fenugreek Capsules by Pure Mountain Botanicals to get all the good and none of the creepy ingredients often found in other supplements. You can get support for healthy breastfeeding, along with all of the other benefits of fenugreek from a top-quality brand.
Inside the bottle, you get 575 mg of organic fenugreek seed with only modified vegetable cellulose capsules. That's it. The capsules are vegetarian, kosher, and gluten-free. Moreover, the supplements are free of magnesium stearate, fillers, preservatives, GMOs, colors, binders, and even plastic containers. This supplement comes in a glass bottle.
Furthermore, the supplement is tested for potency and comes with a 100 percent money-back guarantee. With this supplement, you get help with milk production, support for a sore throat, balanced blood sugar levels, and even digestive discomfort relief. Finally, the bottle comes with 90 capsules, and the brand suggests you take 1 or 2 capsules once or twice a day so that the bottle can last as much as three months, depending on the dosage.
Fenugreek Capsules - 90 Kosher Vegan Caps - Now with 575mg Organic Fenugreek Seed Powder
Our Organic Fenugreek Capsules helps You and your Child feel the best with support for healthy breastfeeding.*
MADE with ORGANIC FENUGREEK POWDER - Our Kosher certified capsules are filled ONLY with CERTIFIED ORGANIC Fenugreek Powder and NOTHING ELSE.
Our Fenugreek Seed Capsules are VEGETARIAN, KOSHER and GLUTEN FREE. Feel Secure Knowing You're Only Putting the Absolute Best Product in Your Body, Made with NO Harsh Preservatives, Fillers or Flowing Agents - NO Sodium Benzoate, NO Magnesium Stearate, NO GMOs
Fenugreek seed powder is the a well-studied herb for supporting normal breast milk production.*
100% MANUFACTURE'S MONEY BACK GUARANTEE – Try the Best - Risk Free! These Fenogreco Capsulas and ALL Products from Pure Mountain Botanicals™ are covered by a no-questions asked money back guarantee.
The NOW Supplements Fenugreek comes from a very popular and high-quality brand all for one incredible price. You can even use this supplement in tea if you prefer to drink your supplements instead of swallowing pills. The brand brings you one of the oldest herbs traditionally used in ancient Greece, Egypt, and China. Now you can have the cures of the past in your home.
Inside the bottle, you get 1,000 mg of organic fenugreek. You do have a few inactive ingredients, including cellulose capsules, stearic acid from a vegetable source, magnesium stearate also fro a vegetable source, and silica. The mid-range dosage offers all the benefits without too much of the supplement, which may cause stomach aches in those with a sensitive stomach.
What's wonderful about these pills is they are free of soy, GMOs, nuts, gluten, corn, dairy, and egg. It's also vegan, vegetarian, halal, and kosher. All this from a GMP certified facility here in America. Take two capsules up to three times daily. If you only take it once a day, the supplement can last up to 50 days.
Sale
NOW Supplements, Fenugreek (Trigonella foenum-graecum) 500 mg, Herbal Supplement, 100 Veg Capsules
TRADITIONAL HERB/VEGAN VEGETABLE CAPSULES: Each vegetable capsule includes 500 mg of organic fenugreek. Take two capsules for a 1,000 mg serving.
GREAT FOR TEA!: This traditional herb can be used in a variety of ways including adding to hot water to make tea.
CERTIFICATIONS/CLASSIFICATIONS: Soy Free, Non-GMO, Vegan, Nut Free, Made without Gluten, Dairy Free, Egg Free, Halal, Kosher
GMP Quality Assured: NPA A-rated GMP certification means that every aspect of the NOW manufacturing process has been examined, including our laboratory/testing methods (for stability, potency, and product formulation).
Packaged in the USA by a family owned and operated company since 1968
If you are looking for a stronger dose of Fenugreek with a massive quantity to save you money try the Nutricost Fenugreek Seed Supplement. Not only does the supplement offer a great value price-wise, but it also provides all the health benefits of fenugreek on a grand scale ready to help you with libido, breastfeeding, and so much more.
The supplement comes with 1500 mg of fenugreek, and a bottle will last you for four months as you only need to take two capsules per day. At this dose, though, you may want to talk to your doctor, especially if you get stomaches along with the pills. Take the capsules with at least a cup of water or as directed by your doctor. Even better, the pills are free of GMOs and gluten, making them an even better benefit.
Lastly, the pills are manufactured in a GMO compliant and FDA registered facility. They also test all of their products with 3rd party testing by an accredited laboratory. The pills are also free of additives as the only ingredients are the fenugreek seed powder and the capsules made fo gelatin and water. No fillers, binders, or preservatives, just fenugreek ready to make your life healthier and more enjoyable.
The last option isn't a capsule like the other but a powder you can add to your smoothies. With BulkSupplements Fenugreek Powder, you get a supplement you can customize any way you like. Add it to baked goods, fruit juice, or even oatmeal and gain all the benefits without swallowing another pill. What you get is a powder rich in antioxidants to support skin, cardiovascular health, hair, libido, digestion, and recovery from exercise.
Inside the package, you will find straight-up fenugreek powder with 1,000 mg in a serving size of half a teaspoon. That's it – no other ingredients, not even capsules. The powder is free of sugar, soy, dairy, yeast, gluten, and all other additives. Simply take half a teaspoon up to three times a day. As you can pick your size, from 3.5 ounces, 8.81 ounces, 17.6 ounces, or 2.2 pounds, you can truly customize the size and price to fit your budget and lifestyle.
Moreover, the factory sealed foil zip pouches come from a quality lab that's FDA inspect facility with GMP compliance right here in America. Now you can get heart-healthy fiber to support inflammation, skin, digestive system, skin, and so much more all from a powder with no additives at all. However, fenugreek has a strong bitter taste, and finding a palatable way to take fenugreek powder may be a tough chore!
Buying Guide for Fenugreek Supplements
Fenugreek has multiple benefits and has been around for thousands of years, helping people with various ailments. But is it right for you? Take a look at the ingredients, benefits, side effects, and even get some answers to your questions before making your final decision.
Ingredients
Fenugreek isn't often paired with other supplements unless you take the supplement geared toward a particular purpose. While other supplements are commonly paired with multiple other ingredients, you can usually find fenugreek on its own. Many fenugreek supplements, even from top brands, have lower rankings than other supplements, as many customers seem to not gain the benefits of the supplement in capsule form.
That being said, let's discuss what fenugreek is, which a seed used as an herb and is part of the pea family. It looks like dried corn and tastes bitter like celery but also slightly like maple syrup. Moreover, it's an annual herb with light green leaves and tiny white flowers, often known as Greek hay.
Usually, the seeds are dried and ground to use as herbs or tea, although you can cook and eat them. Also, you can use them in a paste to use on your skin to heal skin problems. Some companies even add fenugreek extract to soaps and cosmetics. You can even find fenugreek essential oil to put in your diffuser or dilute and use on your skin.
The only other active ingredient listed above is thyme, which is a spice with many uses and health benefits. It can be used to treat respiratory conditions, kill bacteria and infections, improve skin health, teeth health, increase circulation, ease anxiety and stress, balance hormones, and treat fibroids. You can even use it in cooking and as a natural bug repellent. This is definitely a supplement you might be able to benefit from in your health regime.
Benefits
What is so great about fenugreek, you might ask? A lot! First, it can help to improve digestive problems and reduce cholesterol levels because of the water-soluble fiber found in fenugreek. It can also help to relieve constipation and improve digestion as an anti-inflammatory; for the same reasons, it can help your heart too!
As for inflammation, this is a golden pill ready to help fight mouth ulcers, boils, bronchitis, infection, tuberculosis, chronic coughs, cancer, and kidney problems. Along the same lines, the herb can also treat wounds on the skin and scalp. Moreover, it can improve blood sugar levels for type two diabetes, and increase appetite for those with poor appetites.
However, the two main reasons people take fenugreek is because it can increase libido in both men and women. It can help with hernias, erectile dysfunction, and other male problems like baldness. The supplement is scientifically proven to increase testosterone levels in men, which is why it improves libido and why it can also increase exercise endurance.
Next, fenugreek helps milk flow for breastfeeding women with low supply. The herb acts as a galactagogue, which is a substance that helps increase milk supply by stimulating milk ducts. It can work for this purpose in as little as a day! Finally, you can even use it as a spice to enhance your foods flavor.
Side Effects
Fenugreek doesn't have a long list of side effects. When taken in a pill form, it can cause gas, bloating, and diarrhea, but not for everyone. Others may have an allergic reaction, including coughing, wheezing, and swelling. Some people have found fenugreek to cause skin irritation as well.
One concerning issue with fenugreek is it can thin the blood and cause excessive bleeding in some people. Anyone who has an underlying bleeding disorder or is taking blood thinners or anticoagulants should talk to their doctor before taking this supplement. Also, talk to your doctor if you are taking diabetes drugs before taking fenugreek too.
Fenugreek can worsen asthma and allergies. It can also act like an estrogen, so women with estrogen issues or hormone-sensitive cancers should avoid the supplement. Finally, if you are allergic to anything in the fabaceae family-like soybeans, peanuts, or green peas, then you need to avoid fenugreek as you could have an allergic reaction.
Questions About Fenugreek Supplements
What other supplements work well with fenugreek?
Fenugreek pairs well with milk thistle as it is also a galactagogue herb and can help to enhance milk supply in women. The herb also pairs well with evening primrose oil to help women with painful menstruation and help to regulate PMS symptoms.
Can pregnant women take fenugreek?
Fenugreek has been used to induce childbirth, so women who are pregnant should speak to their doctor before taking it during pregnancy.
Will fenugreek help me with weight loss?
Fenugreek is a good source of fiber which can help you to feel full longer. Water-soluble fiber has been known to promote weight loss. It's also a thermogenic herb that can complement exercise by increasing energy short term and possibly improve metabolism. It can also improve your digestion, which can help with a little weight loss. However, very few studies have proven significant weight loss from fenugreek, but it may help to support your efforts.
Conclusion
If you still cannot decide which supplement to take, we highly suggest the Swanson Fenugreek Extract because it features trademarked Testofen for a higher potency of the active ingredient in the fenugreek seeds. For those who need fenugreek for libido or breastmilk production, the most potent option is the best option to get the most benefit. Start improving your health now with a supplement designed to regulate so many aspects of your health.
For more information about fenugreek, watch this short video: