The Top 5 Fitness HRMs Reviewed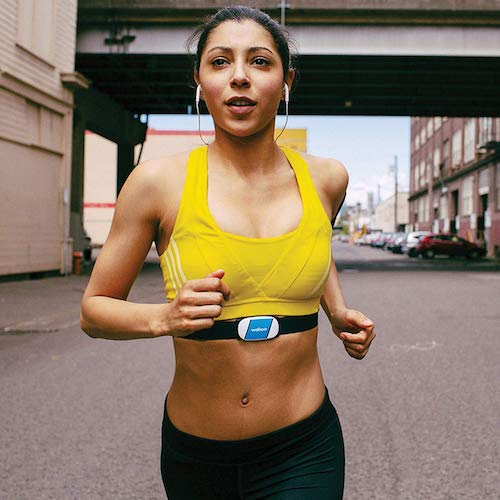 Knowing what to expect and what not to expect from various types of heart rate monitors helps you to choose the one that best fits your needs. For example, wristbands and armbands use optical digital sensors that are designed to measure your pulse rate. Chest bands have a wireless lead similar to an EKG reader and is designed to accurately measure heart rate when you are exercising.
The key to making the most of your heart rate monitor is to calculate your maximum heart rate and then gear your exercise regime for a rate of 50 – 85 percent of your max rate.
The best way, according to the American Heart Association, to determine your max heart rate is to do 30-minutes of a simulated race that you are determined to win using your monitor to record all the data received. Really go for it!
You'll notice that there are lag times as you begin where your heart rate will show it steadily going up followed by peak times with dips along the way and then a drop off as you end your run. Average the numbers together and you'll get your "Max Heart Rate".
Best Fitness Heart Rate Monitors
This is the extensive and newest model of the Fitbit Charge that does more. Plus it offers more accurate HIIT readings.
The main difference is that the HR has continuous, automatic, wrist-based monitoring that is not thwarted by increased activity; it provides simpler heart rate zones without a chest strap.  Plus, it has all the other features that are included in the Charge. The wristband is available in Black, Plum and Tangerine and sizes small, large and extra large.
The Scosche is an armband with wireless digital sensors designed to monitor your intensity levels during training, track calories, pace and distance you have moved.
Rhythm+ is specially designed to work with most fitness apps and acts as a chest strap replacer. It uses a dual-mode processor for simultaneous transmission to multiple ANT+ displays and Bluetooth enabled watch or smartphone app.
The armband is waterproof for most common purposes; plus the battery is rechargeable.  The armband is offered in black only but replacement straps can be purchased in a variety of fashion colors for another $12.99.
The Polar FT is a heart rate monitor stripped to the bare bones. That's all it does. It won't measure how high you jump, how many walls you scale or wake you in time for your big meeting.
It does, however, continuously measure your heart rate and calculates the calories that you burn. It includes a chest strap for use during exercises and connects you to compatible gym equipment using the GymLink app for accurate monitoring.
Colors available: Silver w/black stripe; navy blue with light blue stripe; navy with copper stripe; lime green with light lime stripe; watermelon with light pink.
The Garmin Garmin chest strap, which is this one, has been secretly tested by leading cardiologists for its accuracy – as were many wristband monitors.
If you are looking for a chest band that will accurately record and measure your heart rate during exercise and transmit it immediately to a compatible device, this is the one to buy.
The doctors reported that it is as accurate as an EKG machine!  It picks up only signals from your body, regardless of the environmental disturbances. Compatibility of this device with other devices is listed on the Garmin website.
TICKR is another chest band that uses dual-band transmission to send your data to GPS watches, iPhone 4S and later, Android  4.3 operating systems and over 50 Smartphone apps.  Tracking is done in real time; it is water and sweat proof to ensure that it transmits correct data.
How To Use Heart Rate Monitors Monitors
Find your max heart rate. Find your "easy" level – 50% of your max. Next up work on your endurance with low intensity workouts and recovery days. You can also train yourself to use oxygen efficiently with tempo training methods.
You must perform one HIIT workout per week to boost metabolism and fat-burning rate then follow it with alternating speed and recovery interval workouts.
If you are still confused about how to use fitness heart rate monitors, this video should help:
Related Articles