The Top 10 Pedal Exercisers Reviewed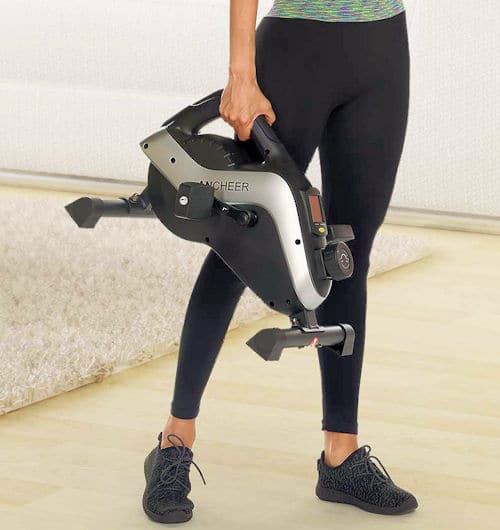 Pedal Exercisers are an excellent method of staying healthy even when staying sitting at a desk all day.
Not only do pedal exercisers fit under your desk, but they also offer several health benefits, which is probably the reason you are looking for one.
Exercising at work is less of a challenge with one of these handy little devices, but with so many options, which one should you pick?
The best pedal exercisers improve blood circulation, heart rate, help lose fatty parts above the knee, and tone legs.
That's not all though, they help people improve mood, reduce stress, while also allowing them to work efficiently. Furthermore, they help to lose weight, bur calories, boost energy, and stay active.
With all of those benefits, you need one and fast! We are here to help. We did all the research and found the pedal exercisers with the highest rating, best options, and take up the least space under your desk, so you have room for legs!
Best Pedal Exercisers
While at first glance you might think all pedal machines are alike, the truth is some units are better than others. After looking at the features and owner feedback for the top models on the market, here are our picks for the best pedal exercisers:
The first option on the list, the Vaunn Medical Folding Pedal Exerciser, folds up when you don't need it or want more legroom. Even better, you don't need tools to assemble the minibike. Though this pedal machine does not look beautiful, but it does help keep you healthy or assist with physical therapy.
Fold the device down fast with a quick-release mechanism. This allows the unit to stay compact, lightweight, easy to put away, and portable for people on the go. It comes with an easy-to-read, multi-functional digital LCD monitor. Keep track of your time, revolutions, and calories burned.
Furthermore, you can adjust the tension know to control the level of resistance. You are in complete control of the intensity of your workout. Rubber feet on the bottom keep the machine from skidding around under a desk, whether on carpet, tile, or other flooring options. All this without a lot of noise!
Do note, this exerciser is for low to moderate workouts, not for hard-core pedaling. Also, you need 13 inches of clearance from your knee to the table to use the pedaler under your desk. Taller people may find this more challenging to accommodate their needs or people with larger feet. Finally, you will need 2 AAA batteries for the LCD screen.
The Mini Xwell Folding Pedaler sits low to the ground to give you more space to workout without leaving your desk. Like the last pedal exerciser, this one folds up for easy storage when you need it out of the way. It's also ergonomically designed for a more comfortable work out.
The small size and portability allow you to work out your hands too with arm exercises on top of your desk. Anti-slip rubber feet keep the bike stable during use. That's not all, the pedals include straps to keep your feet on comfortably and a knob to adjust the tension. You can feel like you are biking uphill or sailing down a hill, it's up to you.
The LCD digital screen lets you monitor RPM, speed, distance, time, and calories burned without leaving your desk. Though, don't limit yourself to your office, use this device in front of your television while sitting at the couch or even under the dining room table while crafting. Furthermore, the elegant design enhances your decor so you can work out in style.
Lastly, because the device folds up, it's not as sturdy as unfolding machines. This is best for light to moderate workouts, as it's not stable enough for high-intensity revolutions. People with larger feet will find this exercise machine uncomfortable as it works best for smaller feet. It's not perfect, but you need to decide if storing is more important than high pedaling power.
The Ancheer Pedal Exerciser offers something rare, two sets of pedals. Do not put your hand where your feet go! Instead, change out the feet pedal for the included hand pedals so you can comfortably work out your arms or legs without leaving the desk. Unlike the other two bikes up above, though, this one does not fold for storage, but it does off for stability.
This pedal exerciser allows you to adjust the resistance to eight different levels, all with quiet operation and ultra-smooth pedal motions. No jerky movements here to frustrate you as you work on paperwork or watch TV. If you need to move it, you can, though, with a built-in handle, do you know that it weighs just over 18 pounds though, which actually offers you a little bit of an arm workout too.
Make sure to grab two AAA batteries to operate the LCD screen. The screen can monitor your speed, distance, rpm, time, and the calories that you have burned. Reset the button by using a long press on the yellow button whenever needed and enjoy the screen built into the device instead of sticking out in your way.
The hand pedals are smooth and shaped, working out your arm muscles. Meanwhile, the foot pedals come with gripping texture and bands to keep your feet in place for an easier workout. The quiet bike allows you to work on interrupted or without distractions for coworkers.
So the DeskCycle Pedal Exerciser is the most expensive on the list so far, it offers a unique style and extra comfort along with an easy to read display no matter where you sit. It's super-low at only 10 inches, so you can use desks as low as 27 inches and still work out. Also, you get twice the resistance range of most other paddlers with eight calibrated resistance settings.
You can feel like you're biking up, biking on flat ground, or like you're a kid again free peddling down a hill. The bike uses magnetic resistance to allow for a smooth pedal motion for healthier joints so you can focus on your computer instead of on your feet. It also uses wide front legs to prevent rocking. You won't be interrupting your coworkers either as this device operates quietly.
As this machine does not fold for storage, it does take up a little more space width-wise but provides a more stable work out with thick rubber gripping feet. Use the display to keep track of calories, five functions, time, and speed was very accurate calories burned calculated. The resistance knob allows you to adjust your levels without getting in the way of paddling your feet.
Finally, the comfortable pedals allow you to work your muscles, and you can adjust the bands with Velcro for extra comfort and security. However, one of the best features of this particular unit if you can place the display anywhere on your desk that you want, you don't even need to keep it on the unit to keep track of calories burned. Now that innovative! Keep track of your progress with an activity log app for either your phone or your computer.
The Sanxia Portable Exercise Mini Floor Pedaler takes up almost no space under your desk but helps you to exercise your feet with a stable machine. It's the perfect option for a vertically challenged person who needs to keep moving or even for a tall person who wants extra space under their desks. It's an ideal low-impact machine to help stimulate blood circulation and work out.
A sleek black design allows this device to blend in under your desk. You can adjust the resistance knob to work harder or slower for different physical conditions for those who are trying to move muscles, exercise, or recover from an injury. Though it's heavy-duty, it still has a sturdy frame with a nonslip design to work quietly and efficiently. None of your employees or co-workers even need to know you are working out.
The multi-functional LCD screen tracks your movements, speed, distance, calories burned, and offers an effective training plan for essential data. Mini-sized pedals allow you to work out on the tip of your toes and move comfortably with straps to keep your feet in place. You can use the mini pedaler for your arms or your legs for a range of muscle toning.
Last of all, you will need 1 AAA battery to keep the screen working. You need to have a small fee to use this machine. Make sure not to overuse the item as he can get hot from a lot of use. Because it's a mini model, it does move around a little bit more than some of the heavier models as it weights under 10 pounds.
The CanDo Magneciser Pedal Exerciser requires a little bit of assembly but offers an extremely affordable price for a stationary pedaler. It comes in gray with black components, which makes it blend into some surroundings better than some of the other units above. The size is perfect for paddling with either your hands or with your feet, depending on which you need to work out or use for the physical therapy.
Next, the lightweight unit is easy to move around I don't need 10 pounds and measures in at the height of only 10 inches so you can use it under almost any desk. Though this unit does not fold up for portability, it still takes up the least amount of space necessary to get the job done. You can also adjust the best for stability and for storage, and also grab the handle for easy moving.
Magnetic resistance allows for smooth and quiet operation, so you never disturb anybody else in the office. It uses by directional resistance, so you get a heavy-duty design without the heavy-duty feel. It's perfect for home use or for the office so you can work and work out at the same time. It comes with adjustable straps where are the feet pedals and offers enough space for even large feet.
Finally, the fully automatic LCD screen Alaska to track five different functions digitally. You can monitor your speed, time exercised, calories burnt, as well as distance traveled. Use the convenient tension control dial for more or less resistance for a progressive exercise program. You may need to put a carpet under this if using tile floor as the grippers tend to work better on low pile carpet.
The Techmoo Exercise Machine is one of the lowest-cost models with the ability to fold up for quick and easy storage. It's also one of the lightest models as it weighs around six pounds. It still offers an LCD screen powered by one battery, which is included. It provides a low profile way of working out for low to moderate impact, but it's not the best option for hardcore workouts as it's so lightweight.
If you need a machine to travel around with you while you recover from an injury, this device will become your best friend. It's made of top quality material such as steel in plastic and allows for easy resistance level changing with the tension up for personalization. It's the perfect option for those who are wanting to recover from a knee injury.
Even though it folds up for easy storage and movement, it still comes with a built-in LCD screen to monitor your calories burned your rpm's and other important exercise data. It also comes with the reset button if you need to change out people using the machine. Use this device if you need to work on your arms as well as you can Easley places on a desk to work out your upper body.
Last of all, the foot pedal's come extra long and with an adjustable belt to work with multiple feet sizes. It also comes with rubber feet to keep it in place, and you can pedal forward or backward without making noise and disrupting coworkers. Even better, it comes fully assembled to save you time and effort so you can just get moving.
The Under Desk Bike Pedaler Exerciser by Techmoo comes in white and black blend in with almost any interior, including under your desk at work or in your living room. It includes a built-in handle for easy moving so you can place it on the desk or table for hand workouts or place it under your desk or at the foot of the couch for foot exercises.
Use the LCD screen to monitor five different functions, including exercise time, distance, count, and calories burned. The screen is built into the device so that you don't have to worry about it coming off or causing any trouble. It's the perfect choice for someone looking to relieve muscle fatigue, reduce muscle soreness, or relieve joint pain from sitting all day at a desk.
The 10-pound device uses high-quality still in plastic to create a lightweight yet functional device with anti-skid feet. You can use the belt intention not to personalize your workout for a low resistance exercise for recovery or a more moderate exercise for blood circulation. Do you need shape allows this device to sit under your desk and still leaves space for you to move your feet around when not using the pedaler?
Keep in mind, this is for low impact exercise and is not substantial enough for speed cycling. It will, however, help to get your body moving that wake you up and keep you motivated to work. It even comes with a low price, adjustable feet pedals with plenty of space, and bands to keep it where they need to be. Work out quietly without distracting any of your coworkers.
The IPO Under Desk Pedal Exerciser looks like it belongs at the gym with the sleek motion design. It comes in a mixture of black and white with high-quality materials and a low profile under your desk. Unlike the other models, this one comes with unique section feet grippers underneath stability bars for better traction.
The multi-functional display uses an LCD monitor to track times, speed, calories burned, and distance so you can set the terms of your work out and monitor for consistency. Work at 2:08 levels of resistance depending on your needs with a built-in tension knob. As the device uses magnetic resistance, you don't need to worry about noise is this machine works smoothly and quietly so you can use it anywhere without disturbing others.
As the device weighs just over 22 pounds, it's strong enough to do a little bit heavier work out if you want to go past rehabilitation and into full-blown exercise. While the device does require a little bit of assembly, it's super easy to put the machine together without fear of it moving or tipping. It's also portable enough to move around if you need to on a regular basis.
The MagneTrainer-ER Pedaler comes with a unique design and a bit of a higher price. It's extremely compact with a 15-inch wide base and sturdy steel legs. As a matter of fact, the base on this commercial grade exerciser allows for the most movement without noise or jerkiness. It also comes with a patented magnetic resistance with twice the range of other magnetic pedal exercisers.
Each foot pedal offers enough space for even large feet and Velcro straps to keep the band on your foot so you can work out easily. The pedals are also designed to be used as hand pedals comfortably. One of the reasons this unit costs more is you are not limited to only eight levels of resistance you can go anywhere between the maximum and minimum that you feel comfortable. Also, you can move the pedals both forwards and backward to work out opposite muscle groups.
The machine works quietly and smoothly thanks to the 23-pound weight and still sits under your desk or at your couch so you can work out where you need to when you need to comfortably. Next, 39-pound effective flywheel wait keeps the pedals moving at a smooth pace. It's perfect for constant motion while working or for rehabilitation after an injury.
Finally, the large LCD display allows you to accumulate time, distance, speed, and calories to keep track of your weekly or daily exercise, and later, you can reset it to start over again. You can also track your exercises on and included app to track your calories with a calculator online. Track your calories, height, weight, age, and gender. The Magnetrainer wants to help you get healthy! Though you may need to put a carpet under the machine if using on a slippery surface.
Questions About the Best Pedal Exercisers
Are pedal exercisers effective?
Pedal exercisers are honestly better for rehabilitation from an injury and for light exercise for fidgety people. These devices are not strong or stable enough to handle the same type of workout you would get on a traditional or stationary bike. If you just want to move a little while sitting at your desk, then a pedaler is the right choice for you.
If you are looking for a weight loss solution, then a pedaler can help to control and burn off a Snickers bar but not burn a massive amount of calories. The question is, how many calories do you want to burn? If you combine a pedaler with other forms of exercise and it can definitely contribute to weight loss. Though, if you use this alone, you probably won't meet your goal.
Here is a good YouTube video discussing some of the benefits of using one at work:

How can I prevent a pedal exerciser from moving around?
To prevent your pedaler from moving around, you can put it up against the back of your desk or another piece of furniture. You can also get a strip of carpet or a small mat like a yoga mat, to prevent the machine from slipping around. If that doesn't work, try a rubber mat meant for exercise machines. Lastly, you could buy a heavier pedaler, so it has a little weight to keep it in place.
What is the right amount of time to use a pedal exerciser?
Start with using the pedaler at the lowest resistance for about 15 minutes. Over time you can work up to about 30 minutes at a time at a higher pace. Depending on how much time you work, you could do three sessions a day, depending on your needs.
Wrapping Up the Best Pedal Exercisers
The MagneTrainer-ER Mini Exercise Bike Arm and Leg Exerciser offers the most function for your money and enough weight to keep the pedaler stable. It also includes an app to help you track your success. Whichever model you pick, though, know you are making a healthy decision to improve your life or rehabilitation one pedal at a time.
Related Articles